La Merce - Fireworks in Barcelona the last weekend in September. -
Part 1 - El Correfoc
---
In 1995, wife and I took a three-week trip to Spain and France. When planning the trip I looked for festivals that may occur in areas around our planned stops. In Fodor's Spain 1995, in the sections on festivals, only one festival appeared to coincide with our plans, the festival of La Merce, on the weekend of 23/24 September in Barcelona. The book stated that there were fireworks but didn't mention what was in store. What an incredible experience it would turn out to be for a fireworks nut!
While the Barcelonans seemed to take La Merce pretty seriously, they seemed surprised that a tourist would actually come to their city for the festival. Many of the other tourists we met during our stay weren't even aware there was a festival going on! This has changed over the last few years as we found during return trips that the city now full of tourists who actually go for the festival.
The festival of La Merce celebrates the Catalunian Princess La Merced's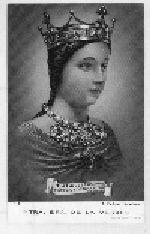 protectorship of the city.
The festivities started on Wednesday night, when we arrived. As we were checking into our hotel, in the center of town, I heard the unmistakable "boom - boom" of salutes being shot. I ran downstairs to the front desk and asked what was going on. The bell captain said that it was most likely some practice going on at the harbor but didn't think there was anything scheduled for that night. The sounds lasted only about 15 minutes or so.
Thursday night we went exploring, asking people about the "fuegos artificiales" and mostly getting blank reactions and shrugged shoulders. The city was buzzing with bands playing a wide spectrum of music in most of the major squares around the downtown area. One waiter suggested we get the local newspaper which should list the weekend's events, their times and locations.
("Fuegos artificiales" was what our Spanish/English dictionary has as a subtext translation of fireworks. "Pirotecnica" seemed to get a better response as did "Boom-Boom" with lots of hand gestures, most likely due to my attempts at speaking Spanish.)

---
Next ...
---
The unique contents of this website are copyrighted, © 2000 - 2002 J. Sergneri All Rights Reserved