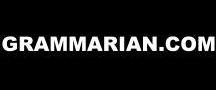 Your WEB-based resource for grammar information since 1994.
Find answers to your questions in our extensive page of GRAMMAR LINKS
If you don't find an answer on our LINKS page, you can use our free service
and ask the Grammarian a question.


by Wang Wen 1567
Don't Watch! Don't Go!
Boycott Trump's Inauguration January 20, 2017
The unique contents of this website are copyrighted, 1994 - 2017 © All Rights Reserved
Grammar, english grammar, ask, questions, usage, links, English Language, grammar questions, grammar authority, english usage, society august fivaz, sergneri art, word use, usage, correct, editing, contact the grammarian, grammarian, proof reading, proofing, little proofers room, writing, corrections, free answers